Real Talk Business 2019 wrap up
Creating a profound new level of connection in the hairdressing industry, Real Talk Business 2019 has shaken up the industry's business education offering.
Powerful, ambitious hairdressers, salon owners, brand representatives and business people congregated at the Ovolo, Woolloomooloo on August 5 for the inaugural Real Talk business education event, witnessing a significant line up of speakers as they spoke to every important facet of the industry and salon management. In a day that covered networking and high-powered learning, Real Talk worked with some of the biggest names in the industry to invigorate its audience and truly create conversations that matter.
The day was opened by INSTYLE editor Cameron Pine, who spoke of the anticipation in the air with the big names on show in a day dedicated to a mentality of learning, growing and sharing in the name of community excellence. MC and retail expert Terry Hawkins then officially opened the proceedings, getting the audience up and out of their chairs to interact. She discussed important concepts of outlook, empathy and sincerity, before making everyone introduce themselves in a non-talkative way to truly connect. Dario Cotroneo, Lee Cohen, Renya Xydis, Monique McMahon, Bridgette Burchall, Bianca Bouldon, Francesco Ruggerino and James Fitzgerald marked the further list of leading presenters as well as a collective of 9 leaders across two panels – Industry Insight and Technology. This highly curated mix of guests and hairdresser involvement allowed for an insightful and motivational day like no other.
"Real Talk was all about connection and creating a room of unbranded, inspirational and authentic conversations. Through a mix of renowned speakers and hairdresser involvement, the feedback from Real Talk has been overwhelmingly positive," said INSTYLE Editor Cameron Pine.
"Testament to the industry's need to get together no matter the salon level or cause, Real Talk breaks down barriers and cultivates ego free conversations that matter"
More information on the dates and program for 2020 will be released shortly.
styleicons
Styleicons is an interactive social environment for the hairdressing industry. Rich with the ideal mix of content to fuel a creative mind, the inspirational community has been designed to propel the industry's business and creative minds and motivate the next generation of the hair and fashion leaders.
Through a delicate balance of information and aesthetic appeal, Styleicons updates all industry professionals with a subtle mix of news, a focus on events, people, business, product and lifestyle news as well all things hip to ensure any creative professional is not left untouched.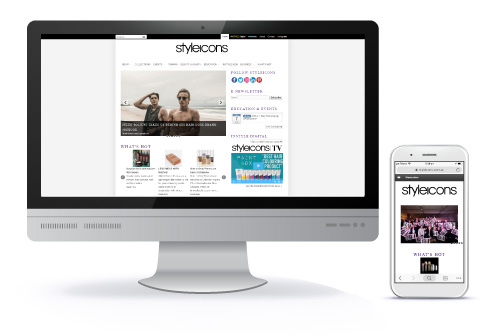 INSTYLE
INSTYLE is Australia's leading hairdressing industry magazine and is an authoritative source for news, reviews, interviews and inspiration for salon professionals. INSTYLE sets the benchmark for hairdressing business and has built a reputation as the only magazine to include in-depth stories and features on all brands, products, services and issues facing the industry.
Proudly the industry's longest serving magazine, INSTYLE has been inspiring and educating hairdressers for more than 33 years, and continues to define trends with six issues per year.